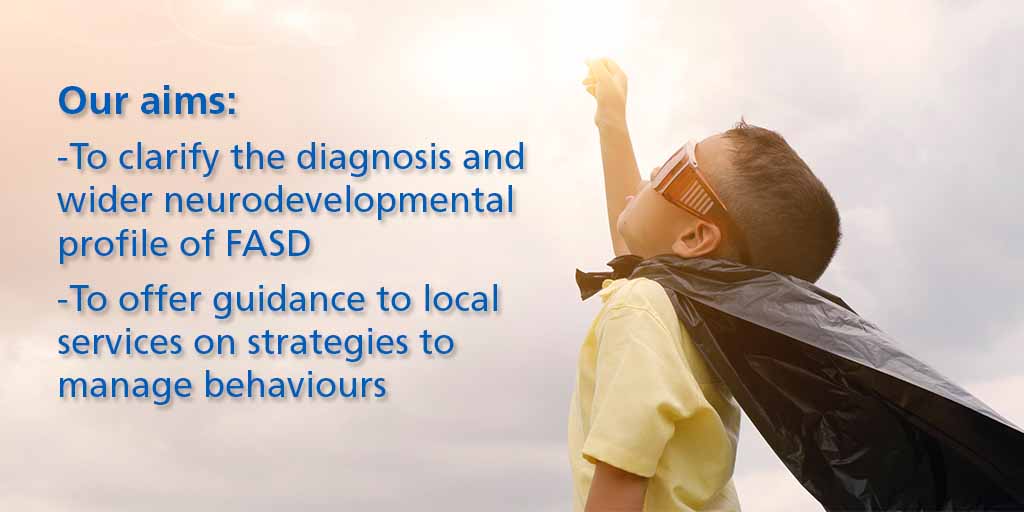 The life-long implications of Fetal Alcohol Spectrum Disorders include physical disabilities, mental illness and behavioural problems such as learning difficulties, issues with understanding information and assessing risk, attention problems, aggression and hyperactivity.
We carry out detailed assessments for children and adults suspected of having FASDs which look at a person's communication and brain functions relative to their age as well as photographic analysis of their facial features.
The assessment process takes two days, the first of which involves observing someone's behaviour, non-verbal interaction and cognitive, sensory and communicative profile. The second day involves information based questionnaires, evaluation of objective tools and a review of previous reports that have been undertaken.
Once a diagnosis has been made we can offer a range of behavioural management advice as well as specialist clinics to deliver interventions that help people improve their wellbeing.
The purpose of the clinic is not to replace local services but to support the diagnostic and behavioural management provided by local teams. There is limited experience and understanding of this in the UK and by completing our holistic assessments we are able to give evidence-based recommendations for local services to implement.
Our clinic is unique because we are one of the few services in the UK that has the multi-disciplinary skills to confidently diagnose Alcohol Related Neurodevelopmental Disorder as well as other neurodevelopmental conditions such as Autistic Spectrum Disorder and Attention Deficit Hyperactivity Disorder.
Alcohol Related Neurodevelopmental Disorder
We have seen over 100 complex cases of ARND and so have the experience and knowledge to recognise the subtle deficits seen with this condition. This means we are often able to make a full diagnosis, and if this is not possible for any reason we will advise what the appropriate diagnostic formulation should be.
We diagnose ARND by using a multidisciplinary assessment to identify, understand and evaluate factors such as neglect, prematurity, genetic disorders, pregnancy related issues and the use of drugs during pregnancy. Our assessments provide indicators of verbal function, confabulation (disturbance of memory) and medium-term memory which may not be established in other testing.
Other neurodevelopmental and genetic conditions
We are experienced at recognising, diagnosing and understanding the causes of other complex neurodevelopmental and genetic conditions including Autistic Spectrum Disorders (ASD), Attention Deficit Hyperactivity Disorder (ADHD), Tourette syndrome and Fragile X.
ASD and ADHD occur frequently in those exposed to prenatal alcohol and therefore these form a core part of our assessment. No single approach is used; we evaluate observational and historical information as well as screening tests.
We have published research in these areas, particularly on the relationship between FASD and autism.
Therapy and repeat assessments
We do not provide therapy after assessment, local services are better placed to implement our recommendations.
Situations have occurred where individuals have been assessed at a young age and a re-evaluation has been requested but in general most people are seen only once.