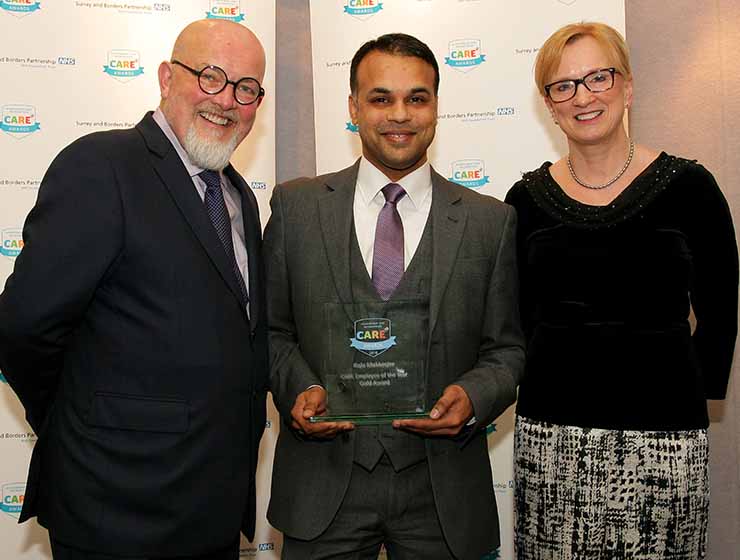 Professor Raja Mukherjee is an Adult Learning Disability Consultant Psychiatrist for Surrey and Border's Partnership NHS Foundation Trust, with interest in the management of developmental disorders across the lifespan. In September 2009 he started the first NHS based specialist Fetal Alcohol Spectrum Disorders behavioural clinic and since then has seen over 250 cases for specialist second opinion as a National referral service. Professor Mukherjee completed his PhD on the subject of Fetal Alcohol Syndrome in 2014. He has also acted as an invited advisor to the BMA board of science, The Department of Health, and the World Health Organisation on the subject of FASD. In 2015, Professor Mukherjee also gave evidence to the first All Party Parliamentary Group on FASD at the House of Commons. He has continued to support national clinical developments related to FASD. Professor Mukherjee is a member of the NICE quality standards group for FASD. He is currently the only UK representative to a US, NIH sponsored initiative to consider the research criteria for FASD. In his own time, he volunteers as a medical advisor to various FASD charities both in the UK and internationally. In 2021 he was made an Honorary Professor at the University of Salford related to his work on FASD.
In wider work, he is currently Clinical Lead for Adult neurodevelopmental services provided by Surrey and Borders including Adult ASD and ADHD services across Surrey, Hampshire, and Portsmouth. He is an executive committee member of the RCPsych SIG on neurodevelopmental disorders, taking over as Finance officer from July 2021.
Meet the team
From left to right: Alex Livesey (Clinical Psychologist), Louise Fox (Speech and Language Therapist), Lesley Wilson (Speech and Language Therapist), Alex Carlisle (Neurodevelopmental Specialist Clinician, Clinical Psychologist and FASD Clinic Lead), Marilyn Oldridge (FASD Service Lead Administrator), and Raja Mukherjee (Consultant Psychiatrist and FASD Service Lead).
Dr. Alexandra Carlisle
Dr Alexandra Carlisle (Chartered Clinical Psychologist and FASD Specialist Practitioner) commenced her Clinical Psychology training at the University of Surrey in 1997 and has since gained 20 years of experience working as a qualified Clinical Psychologist in the National Health Service as well as in private settings. Dr Carlisle is registered as a Practitioner Psychologist with the Health and Care Professions Council (HCPC) and is an Associate Fellow of the British Psychological Society (AFBPsS) as well as being a Registered Supervisor with the British Psychological Society. She has interest and experience in Autism, Neurodevelopmental assessment, and Cognitive assessment and has worked in the FASD clinic since 2013. Dr Carlisle has published in peer reviewed journal articles about Fetal Alcohol Spectrum Disorder and in journals such as Child Neuropsychology, and she continues to participate in the research carried out by the clinic. She has presented service evaluation research findings at international FASD conferences and has been invited to speak about FASD by organisations such as ACAMHS and Adoption UK.
Marilyn Oldridge
Marilyn Oldridge previously worked in the offsite storage industry for 20 years before commencing working for the NHS in 2010. Her role began as Medical Secretary to Professor Mukherjee (then Dr), Consultant Psychiatrist to the Learning Disability Team. At this time, Professor Mukherjee was setting up the national FASD clinic alongside his role in the LD Team. Marilyn also assisted with administration for the Adult Neurodevelopmental Services provided by Surrey and Borders, including Adult ASD and ADHD services across Surrey and Hampshire, when they were first introduced.
Marilyn took over the role of administering the FASD clinic around 2013. Marilyn has enhanced her knowledge of FASD through observations of clinics, reading published papers and reports, online training, and overall experience of coordinating clinics and liaising directly with family members and other professionals involved - such as Social Workers, SENCO, and GPs. Marilyn also coordinates and tracks the finance of the clinic. Marilyn's training includes: Finance for Clinicians, GP Funding, Introduction to Clinical Coding, Business Cases, Introduction to NHS Costing and Understanding Budgets and Spreadsheets. The National FASD Specialist Clinic is not currently a centrally commissioned NHS service so Marilyn Liaises with Clinical Commissioning Groups (CCG's) and Adoption Support Fund (ASF) personnel, amongst others, in order to ascertain funding is in place and provide the invoicing details to the Trust finance team for them to raise invoices.